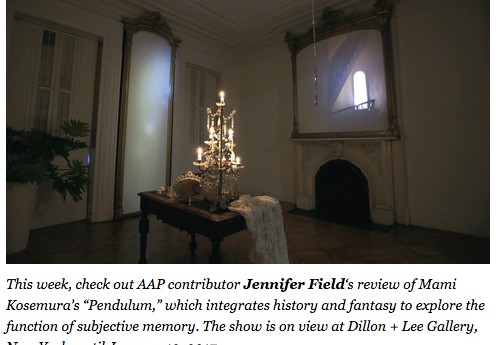 個展のレヴューがアート雑誌Art Asia Pacificに掲載されました。
A Review of my solo exhibition appear on Art Asia Pacific magazine.
"This week, check out AAP contributor Jennifer Field's review of Mami Kosemura's "Pendulum," which integrates history and fantasy to explore the function of subjective memory. The show is on view at Dillon + Lee Gallery, New York, until January 13, 2017."
"For this exhibition, Kosemura integrated actual history and fantasy to explore the function of subjective memory within a priori structures such as physical architecture, or social norms such as souvenir-collecting. In this way, Pendulum, as an installation, transcended the room in which the video was displayed, by implicating features of the entire townhouse and even the history of New York City. Kosemura responded to her environment with both micro- and macroscopic focus, as a living and multi-dimensional location for her site-specific work. In so doing, she brought attention to the notion of constant change and whether a still life can ever truly be "still." " written by Jennifer Field, Art Asia Pacific