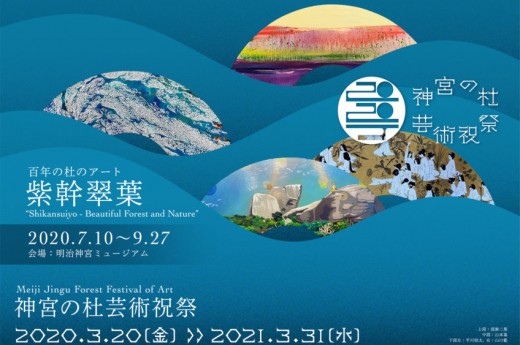 神宮の杜芸術祝祭
紫幹翠葉(しかんすいよう)−百年の杜のアート
会期:2020年7月10日(金)〜9月27日(日)
休館日:毎週木曜日(但し7/23, 7/30は開館いたします)
時間:10:00〜16:30 ※最終入館は閉館時間の30分前まで
会場:明治神宮ミュージアム
入場無料 ※別途、明治神宮ミュージアムの入館料1,000円が必要です。
MEIJI JINGU FOREST FESTIVAL OF ART
SHIKANSUIYO – ART OF THE ONE HUNDRED YEAR FOREST
Dates: Friday, July 10 to Sunday, 27 September, 2020
Closed: Thursdays (except July 23 and July 30)
Time: 10:00am - 4:30pm *Last entry to the museum is 30 minutes before closing time.
Venue: Meiji Jingu Museum
Free of charge *Admission fee of 1,000 yen to the Meiji Shrine Museum is required.
日本語:https://jingu-artfest.jp/shikan-suiyo/
English : https://en.jingu-artfest.jp/shikan-suiyo/
明治神宮創建100年を記念した「神宮の杜芸術祭」に参加しております。小作品ではありますが、初のサイアノタイプ(日光現像)を使用した写真作品を出しておりますので、お近くに来られた際には是非明治神宮の杜および美術館へとお立ち寄りください。
I am participating in the "Meiji Jingu Forest Festival of Art" held at the Meiji Jingu Forest surrounding Meiji Shrine, which is celebrating the 100th anniversary of its construction. At the museum, I am exhibiting a small piece that I made for the first time using sunlight development, cyanotype. Please visit the Meiji Jingu Forest and the Meiji Jingu Museum.