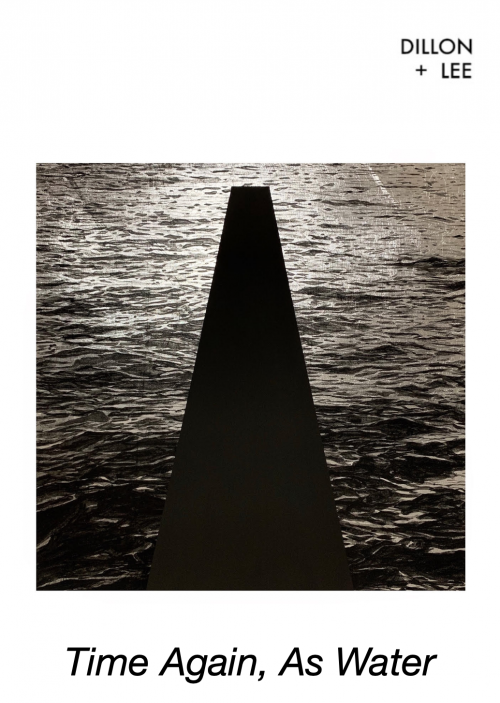 Katsumi Hayakawa
Mami Kosemura
Steven MacIver
Norihiko Saito
Humans since 1982
Opening Tuesday October 22
Reception Wednesday October 23, 6-8 PM
Chinatown Soup 16b Orchard Street  NYC 10002
On View Tuesdays - Sundays 12 - 7 PM
Dillon + Lee
http://www.dillongallery.com
Dillon + Lee is pleased to present "Time Again, As Water," a group exhibition featuring works by Katsumi Hayakawa, Mami Kosemura, Steven MacIver, Norihiko Saito, and Humans since 1982. Together, the artworks explore the notion of time, made evident through the repetition and rhythm in the artists' process and the works' content. Lurking on the side is water— as one of the essential substances of Earth, often in unfair supply, yet in its essence, generous and benefitting life. Its flow and ripples have often been used as an allegory of  time, constantly passing and moving away from us, yet still in cycles.
Katsumi Hayakawa's three-dimensional paper frameworks portray the loneliness of the modern city. He believes that urban construction embodies "the absence of existence, the absence of nothingness and the absence of the absence of absence", and his inclusion of metallic materials evokes images of microchips and circuit boards, probing the relationship between the real and the virtual, what is natural and what is fabricated. Katsumi Hayakawa (b. 1970, Tochigi, Japan) received his BFA from Nihon University College of Arts, Tokyo and his MFA from the School of Visual Arts in 1998.
Mami Kosemura's photographs and animations refer to traditional subjects taken from classical European motifs and Japanese painting. Drape depicts a dinner table arranged in the style of a Dutch still life painting with its contents covered with a large wet fabric. The fabric, while partially covering what is below, call attention to the objects' form. While the table may be familiar to some, to Kosemura, they are foreign, and while dining might be a way to bring together a community, it is also a source of alienation. Mami Kosemura (b. 1979 Japan) is based in Tokyo and received a PhD. in Painting and M.A. in Mural in Tokyo University of the Arts.
Steven MacIver believes that drawing should be viewed as a language, with all the subtleties and idiosyncrasies of meaning, structure and syntax. His research and practice focuses on developing the linguistics of drawing: its role in the mediation of communication between the artist and the viewer, evoking real, remembered and imagined environments. MacIver's work has developed these concepts through the investigation of mark-making, exploring the diversity of methods through which line may be made. MacIver was born in the Orkney Islands and completed his BA in Fine Arts at Gray's School of Art in Aberdeen and his MFA at the Slade School of Art. Following his graduation in 2004, MacIver was honored with the Sainsbury Scholarship in Painting and Sculpture at the British School at Rome. MacIver has received numerous awards and grants and has exhibited extensively in the UK where his work is held in several collections. He currently lives and works outside Oxford.
Norihiko Saito is an internationally recognized Japanese practicing artist and an instructor of painting at the Tokyo University of the Arts, one of the most prestigious art and design universities in Japan.  Known for his large-format paintings encompasses veins of both abstraction and figuration Prof. Sait? blends tradition and modernity. Solo Shows: Museum of Art-Hiroshima City University ('05)/ Hiratsuka City Museum ('07)/ Dillion Gallery, New York ('09). Group Shows: Award of Excellence at the "Contemporary Nihonga: the 10th Exhibition of Yamatane Museum Art Prize"('89)/ Beyond "Nihonga"- An Aspect of Contemporary Japanese Painting, Tokyo Metropolitan Art Museum, Tokyo ('93)/ Odd Landscape, National Museum of Modern Art, Tokyo ('11). Public Collections: National Museum of Modern Art, Tokyo/ Yamatane Museum of Art/ Ohara Museum of Art/ Niigata Bandaijima Art Museum/ Museum of Contemporary Art Tokyo/Hiratsuka City Museum/ Nerima
Humans since 1982 is an artist studio based in Stockholm, Sweden founded in 2009 by Per Emanuelsson (b.1982, Sweden) and Bastian Bischoff (b.1982, Germany). Their interdisciplinary studio practice defies easy categorisation, instead seeking to traverse the fields of art, design and technology. Their work is driven by shared curiosity and desire to make sense of the world, explored through ideas of time, technology and the pluralism of things. Per Emanuelsson and Bastian Bischoff both received their MFA in Design from HDK, School of Design and Crafts in Gothenburg, Sweden.