https://youtu.be/bcCAhG5Wz3g
Frozen
Video installation / 2011 / mixed media / 22min. (endless repeat), color, sound.
https://youtu.be/ZBCxcl0P-6s
Installation View @ Kuandu Biennale 2014, Kuandu Museum of Fine Arts, Taiwan
At first, this piece was shown as 10 pieces photo work during a lecture by Diana Balmori, the landscape architect based in NY, at Royal Academy in London in October 2010. It went along with her manifesto, written while we exchanged letters for one year. In 2011, after one year, I re-produced this piece into a video-installation work.
For this piece, I had been taking photos with a fixed digital SLR camera at intervals of a black stain spreading gradually on paper and sea side views in Japan, from morning till night.
After that, I retouched about 3000-4000 pictures, that were taken, and connected to one movie.
In the exhibition, The movie that was created like this was shown on the main screen. This piece is composed with 3 projections, including onto the main screen.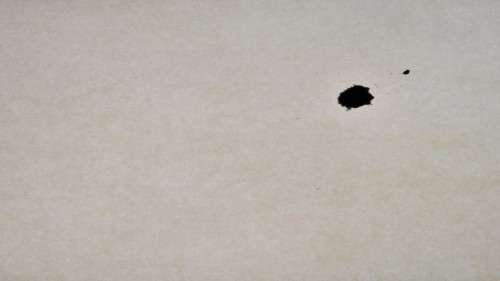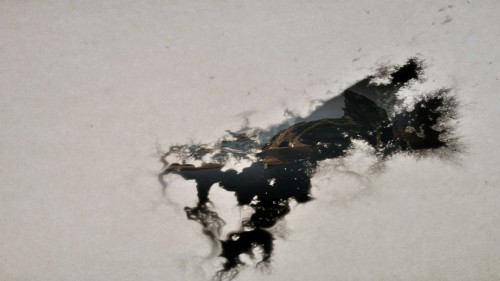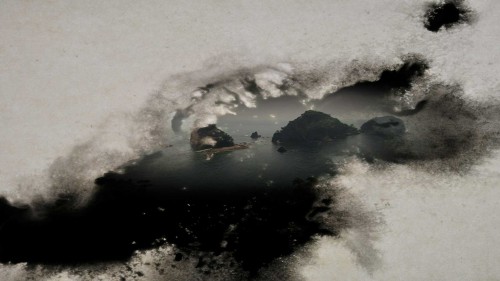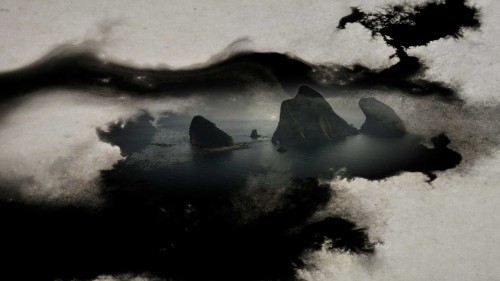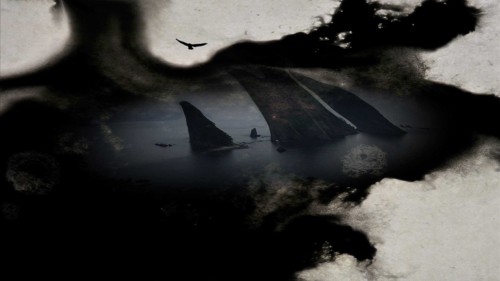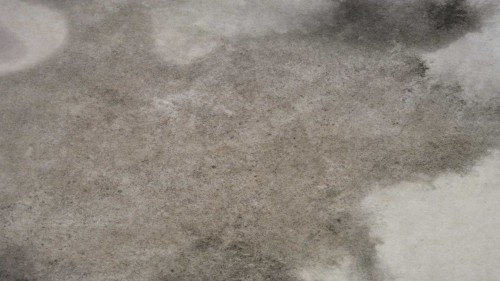 A small back stain appears from nowhere on a piece of paper.
It spreads over the paper, changing it is color from black to deep blue, purple, then blending together, a sea side view in the early morning comes into existence, little by little, in the stain.
The color changes from light blue at noon to blue gray in the evening, The stain spreads and begins to melt through all over the paper, changing it is color more and more.
Before we know it, the view also begins to transform, melting and flowing joining the stain on a screen.
One ship across the gray sea begins to melt.
A bird flies up from behind a rock, flies away, and crosses before my eyes, which are watching the red purple sea dying out.
The bird disappears, outside the frame, far away, flapping.
【 Public Collection 】
Museum of Contemporary Art Tokyo (Japan)
【 Exhibition / Screening 】
2013"Re・Born - The Six Sense that an image stirs up - , The Contemporary Art Gallery, Art Tower Mito, Japan
2013 "Image Forum Festival 2013", Shinjuku Park-Tower-Hall etc.,Tokyo
2012 "MOT Collection 'New Acquisitions'", Museum of Contemporary Art Tokyo, Tokyo
2012 "KAIGASHIKOU 2012",GEIDAI Art Plaza, Tokyo University of the Arts, Tokyo
2011 Solo Exhibition"The Bird in The Darkness, Ashen White Shadow", Yuka Sasahara Gallery, Tokyo
2011 "VILLA TOKYO", organised by Raster Gallery, Redevelopment District in Kyobashi, Tokyo
2011 "2.46 and Thereafter", Edison Place Gallery, Washington D.C.
2010 "Ra Forum'Diana BALMORI : Landscape Manifest'", Royal Academy of Arts, London