001 春夏秋 Spring, Summer, Autumn
https://youtu.be/1YaKE5yyN_8
002 冬 Winter
https://youtu.be/0FG4fydUOVY
003 天袋 Tenbukuro
https://youtu.be/Jt1REOzjf1s
四季草花図 Flowering Plants of the Four Seasons
Video installations / 2004 - 06 / 5-23min.(endless repeat),color,sound
This piece was configured using photographs taken every season for over 2 years.
I exhibited 3 different versions of this piece provisionally, as I continued to work on completing the final product.
The Spring version was exhibited in June 2004 and titled, "Flowering Plants of the Four Seasons-Spring".
The Spring and Autumn version was exhibited in January 2005 and titled, "Flowering Plants of the Four Seasons-Spring and Autumn."
The Spring, Autumn and Winter exhibition went up in June 2005 and September and July 2006, and titled, " Flowering Plants of the Four Seasons-Spring, Autumn and Winter."
The completed version was exhibited in February of 2007 under the title, "Flowering Plants of the Four Seasons."
【 Public Collection 】
Asia Society and Museum NY (U.S.), Museum of Contemporary Art Tokyo (Japan), Gumma Museum of Art, Tatebayashi (Japan)
【 Exhibition / Screening 】
2015 "The Screening for China-Japan-South Korea Summit", National Museum of Modern and Contemporary Art Korea, Korea
2013 "Now Japan" Kunsthal KAdE, Holland
2012 "The Collector", ROPPONGI HILLS A/D Gallery, Tokyo
2012 "EDO TO VIDEO: JAPANESE SCREEN MAKING", Dillon Gallery, NY
2011 "Trick & Humor", Yokosuka Museum of Art, Kanagawa
2010 "MAM SCREEN" Project: Mori Art Museum, Roppongi Hills, Tokyo
2009 "Mind as Passion:A video art exhibition featuring 17 new-generation artists from Taiwan and Japan", Taipei Fine Arts Museum,  Taiwan
2008 "Yokohama Art & Home Collection", Yokohama Home & Art Collection, Kanagawa
2007 "East of Eden : Gardens in Asian Art", Freer & Sackler Galleries/Smithsonian, Washington D.C
2006 "NIHONGA Painting : Six Provocative Artists", Yokohama Museum of Art
2006 "Projected Realities : video art from east asia", Asia Society and Museum, NY
2005 "The country art exhibition in Ashigara",  Former Seto Residence、Kanagawa
2005 "Mirage on a Summer Day -Reflections on Nature by Contemporary Artists-", Gunma Museum of Art, Tatebayashi, Gunma
2004 "eco&ego" Former Shibazaki Residence, Kawaguchi-City, Saitama-Prefecture, Japan
The concept of this piece was based on traditional Japanese paintings, which often share the same or similar titles as the ones I've chosen, and represent several seasons in one scene. I took time-lapse photographs over four seasons in Japan, each one at  30-minute intervals. In this piece, we can see that seasonal flowers grow, bloom and decay in one garden, and we can also see these events happen on Fusuma and Shoji screens, which were used to divide rooms in Japanese style houses.
For the exhibition, There were two locations types for the installation. One was a gallery or museum setting, the other was in an ancient Japanese style house. For both, I modeled the screens after traditional designs, such as Fusuma and Shoji.
The change of the sense of sight that I feel when I edit my animation work is similar to the transformation based on the essence of "Shasei", Japanese sketching, which is drawn in preparation for the kind of Japanese folding screen which I referred to for my work "Flowering Plants of the Four Seasons".
By the way of thinking of "Shasei", Drawing real things and imitating other drawing have the same meaning and are treated as the same.
Most Artists were drawing both on one page of their sketch books with no explanation which gives some information about reference work. There is no distinction made between something that is real or an imitation in "Shasei".The form of flower had been changed, transformed, and modified from its first shape little by little while It was imitated from one painting to another painting, and that kind of imitation repeated over and over again.
When we look at the painting "Flowering Plants of the Four Seasons", we should look at a strange space having a special time which has four seasons at one time in one frame, formed because of layers of the change. Our understanding of how we see the world might start changing and become limitless, like a floating butterfly on the painting.
When I project my completed animation on a screen, I can confirm how the changes appears after the layering of time. Even if the flower on the picture takes on a strange existence, It becomes quite different figure from the original one, and becomes something like an imitation through a lot of editing, The moment that the flower on the movie moves before our eyes, The flower regains the image which has in its life, and our consciousness goes back to everyday life.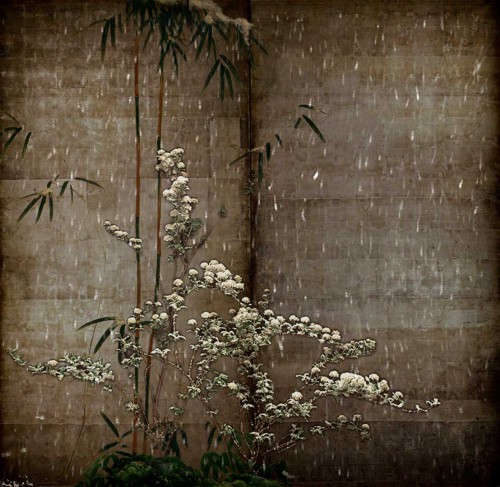 【 The Process 】
1. I recreated the scene of my piece, which was based on a folding screen image. I compared the motifs and composition of the pictures, but I composed and picked material freely. This is the set before I took the photographs. In the case of this piece, I set up plants in solid wooden crates and clay pots, referencing the original folding screen images, so I was able to capture the growth of the plants, little by little.
2. I fixed digital single lens-reflex camera (DSLR), kept the same setting as I had from the beginning, and the plants grew. I set the camera up so that the shutter would be pressed at hourly intervals. I continued this for 2 months, and I got about 1,500 photographs.
3. My original image was based on the folding screen picture, "Botan-no-ma at Kuro-shin in Nijo Castle", which was created by Naonobu Kano.
4. I took about 1.500 pictures of plants, then I retouched, transformed, arranged, changed the color and reconfigured them. The following picture is an example from the middle of the process. I composed as I transformed the clipped pictures, and I adjusted the arrangement and color of the plants. I added rocks, and after that, I changed the color and reconfigured the composition again, and again.
【 Public Collection 】
Asia Society and Museum NY (U.S.), Museum of Contemporary Art Tokyo (Japan), Gumma Museum of Art, Tatebayashi (Japan)
【 Exhibition / Screening 】
2015 "The Screening for China-Japan-South Korea Summit", National Museum of Modern and Contemporary Art Korea, Korea
2013 "Now Japan" Kunsthal KAdE, Holland
2012 "The Collector", ROPPONGI HILLS A/D Gallery, Tokyo
2012 "EDO TO VIDEO: JAPANESE SCREEN MAKING", Dillon Gallery, NY
2011 "Trick & Humor", Yokosuka Museum of Art, Kanagawa
2010 "MAM SCREEN" Project: Mori Art Museum, Roppongi Hills, Tokyo
2009 "Mind as Passion:A video art exhibition featuring 17 new-generation artists from Taiwan and Japan", Taipei Fine Arts Museum,  Taiwan
2008 "Yokohama Art & Home Collection", Yokohama Home & Art Collection, Kanagawa
2007 "East of Eden : Gardens in Asian Art", Freer & Sackler Galleries/Smithsonian, Washington D.C
2006 "NIHONGA Painting : Six Provocative Artists", Yokohama Museum of Art
2006 "Projected Realities : video art from east asia", Asia Society and Museum, NY
2005 "The country art exhibition in Ashigara",  Former Seto Residence、Kanagawa
2005 "Mirage on a Summer Day -Reflections on Nature by Contemporary Artists-", Gunma Museum of Art, Tatebayashi, Gunma
2004 "eco&ego" Former Shibazaki Residence, Kawaguchi-City, Saitama-Prefecture, Japan