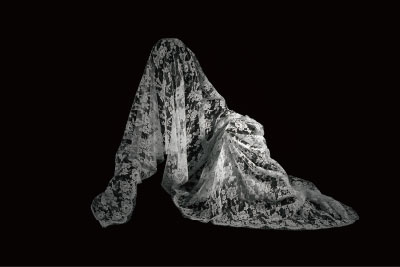 This piece was made from my collages as light drawings, I cut out a wedding veil from it is background and I erased the lady's face and body on a old painting leaving her clothes and accessories, this is something that I always do between large project like video installations.
8 photographs were shown at first, afterwards, 2 movies from shots taken at the same time with those ones were exhibited.
I am interested in a situation covered with clothes and veils. I can find this kind of situation in our ceremony. In most cases, We make that kind of covering action before beginning something, something happens, or after ending something, something finished. I feel that those clothes signify a moment when we exist outside of time between stages in own lines. And I feel those clothes signify"Still".
【Exhibition / Screening】
Solo Exhibition "The Bird in The Darkness, Ashen White Shadow", Yuka Sasahara Gallery, Tokyo
"VILLA TOKYO", organised by Raster Gallery, Redevelopment District in Kyobashi, Tokyo 2012 "The Collector", ROPPONGI HILLS A/D Gallery, Tokyo
"KAIGASHIKOU 2012", GEIDAI Art Plaza, Tokyo University of the Arts, Tokyo 2015 "Tenkei", un petit GARAGE, Tokyo